A silent drifter takes on a set of murderous animatronic amusement park mascots in a night of bloody violence.
When a haunted building tells you what it is, listen.
Family entertainment centre / birthday party venue Willy's Wonderland – a name likely to send British parents scuttling in the other direction even before it establishes its reputation for bloody murder – has been closed for years, though it's certainly not been quiet.
Its haunted animatronic party mascots have been responsible for numerous disappearances, and now the local townspeople are somehow involved.
White-suited owner Tex Macadoo is planning on reopening, though the graffiti messages sprayed on the outside walls don't bode well: "kid killers", "bulldoze this building!" and "gateway to hell".
This is a film for brain-dead parents everywhere who have sat through too many awful kids' parties, trading temporary peace for the additive-fuelled rampage to come.
And a Willy's Wonderland rampage rivals the worst that 30 snot-covered, party bag-demanding little terrors can throw at you, as the giant mascots – a turtle, a gorilla, an ostrich, a knight, an alligator, a sexy lady, a weasel and something that looks like the offspring of Jigsaw and Miss Piggy – come back to life and foolishly decide to take on the Janitor and his teenage sidekicks.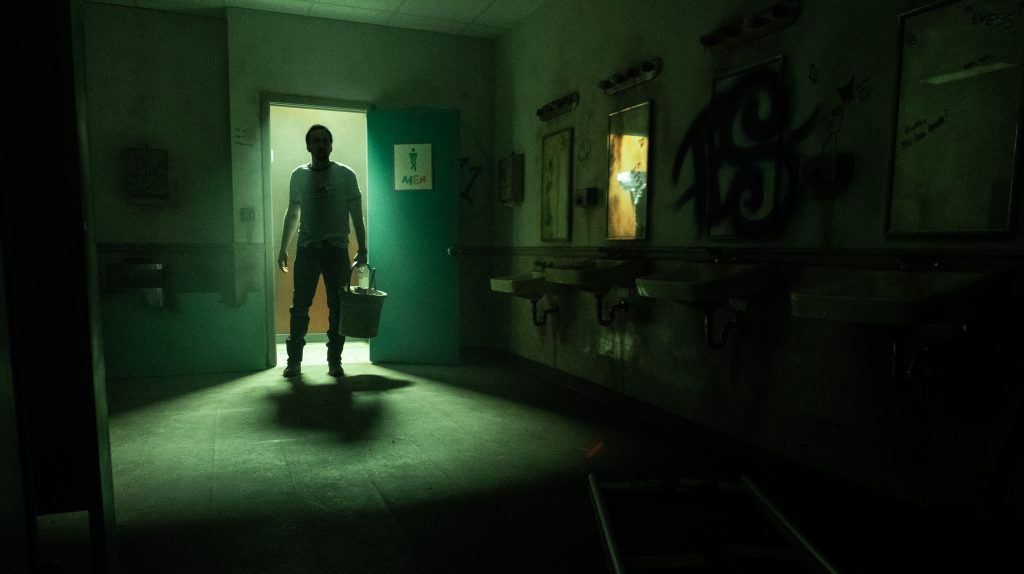 The Janitor (Nicolas Cage, not so much acting as simply being) is only there for one night, having agreed to spend it cleaning the inside of the building in return for the local mechanic fixing his car. He's a silent drifter, neatly bearded and clad in black leather, out of place in the secretive, sepia-toned town of drawling locals.
What's really weird about Willy's Wonderland isn't the terrifying characters, the result of a pact with the devil – all parents make a pact with the devil over birthday parties. No, it's how clean the Janitor gets the vast interior and warren of rooms, armed with only a couple of spray bottles and a metal mop bucket. And he takes on eight different supernatural murderers at the same time.
As he polishes Willy's Wonderland back to life, returning games machines, screens, tables and restrooms to their old sparkling best, the creatures themselves are reanimating.
I'll admit that it took me ages to realise the Janitor hadn't said even a single word, though in my defence I talk so much I've hardly heard a man speak in a decade. It's easy to tell how Cage's character is feeling though, as he glares, stares and grimaces; and anyway his implacability, solid reactions and determined killing technique tell us exactly what he thinks about whom.
Helping the Janitor – with his killer killing, rather than the actual cleaning, because when did teenagers do any cleaning – is a group of six local kids, led by the extremely on-the-ball Liv (an impressive Emily Tosta, holding her own against Cage as much as the script allows). The other five are an endearing mixture of teenage hormones, sweetness, dimwittery and general bafflement, all of which effectively paints a giant target on their backs.
One is even subjected to a sob story from a mascot and agrees to help, though sadly it turns out to be a wicked ploy – this is where the #BeKind hashtag gets you – and he is soon dead, a situation that will not have decreased his brain power one itoa.
While Willy's Wonderland is an eye-popping, oddball blast (imagine Cage's previous psychedelic revenge thriller Mandy set in Teletubbyland) it's not entirely without a message. Tex Macadoo, for all his faults (his white stetson, his habit of feeding drifters to dead satanists) appears to be an otherwise decent employer, insisting the Janitor takes regular breaks.
Even as the Janitor is killing a haunted gorilla with a toilet plunger (a doubly "urgh" moment – gore and germs) Willy's Wonderland is played absolutely straight, something which is (yes, pandemic reference incoming) rather fitting considering what we now consider normal life.
There are some eerie moments – the first creature to move does so while the Janitor has his back to it – though overall this is not a film of chin-stroking subtlety. Coloured lights, loud noises, disembodied voices and ticker-tape storms confuse the teens, though the Janitor is implacable throughout: about his cleaning, his scheduled breaks, and his monster-bashing.
The history of the place is recounted in detail between characters, complete with flashbacks, which makes it a good watch if in these strange days your attention span is inversely proportionate to the furlough time you have available.
Cage's Janitor is focused and immaculately dressed, until his killing leaves him covered in whatever it is that runs through the veins of haunted animatrons. After each dispatch he wraps his wounds in silver tape and changes out of one Willy's Wonderland t-shirt into another Willy's Wonderland t-shirt, and is soon – with his vintage car, implacable stare, identical outfits and remorseless violence – coming across like the John Wick of the children's party circuit.
He's even left tied to a chair opposite the vicious killers, leaving me convinced he'd finally say something, and for it to be "Yeah I'm thinking I'm BACK!" though what we get is a recorded rendition of Heads, Shoulders Knees and Toes, including that oft-omitted second verse.
Bouncing along like a recently-decapitated head, Willy's Wonderland is certainly comic, though there aren't that many funny lines, partly because the Janitor says nothing. I did like the Mexican turtle though, his groans of "my balls!" subtitled in English as Liv stamps on him. Ultimately though Willy's Wonderland runs out of steam, partly because of the Janitor's mechanical-like responses to the animatrons he's faced with. It's not that it ever gets boring; it's just that he doesn't even have one vulnerability to make the battle more interesting.
Costing around $5 million to produce, Willy's Wonderland is budgeted only slightly higher than an 8 year old's whole-class party, and Cage is considerably more satisfying; though admittedly you don't get to sneak a whole tub of cocktail sausages and a six-pack of Pom Bears out with you afterwards.
Signature Entertainment Presents Willy's Wonderland Home Premiere on Digital Platforms on 12 February
Read my (very spoilery) article The Wonder of Willy's Wonderland
Watch the trailer now: